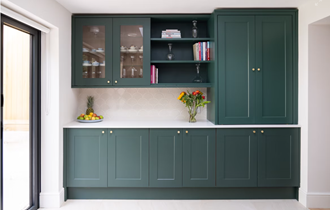 With the pace and pressure of contemporary life showing no sign of slowing down, 'wellbeing' is the word on everyone's lips. And, given that we spend approximately 90% of our time indoors, it's no surprise that interior spaces are taking a leading role in transforming the way we think and feel.
From leveraging the air-purifying qualities of plants to embracing open plan living, the subtleties of interior styling can have a significant impact on your mental wellbeing – reducing stress levels and heart rate, and boosting productivity and creativity. Seeing our home as a sanctuary – a safe and stimulating space to retreat – is crucial.
So, without further ado, here are some simple – yet effective – ways to add a touch of hygge and happiness to your interior space…
Explore biophilic design
In simple terms, biophilic design serves to enhance our connectivity to the outside world by bringing nature indoors. It doesn't matter if you're introducing a single plant to your living room, swapping carpet for natural wood flooring, or installing a whole waterfall feature in your entrance – being at one with mother nature is a proven way to bolster our wellbeing.
More than just fostering a culture of creativity, improving recuperation, enhancing clarity of thoughts, and significantly reducing stress levels, plants help to eliminate various indoor air pollutants – including Benzene, which is commonly found in household products such as varnishes and detergents – to support our physical wellbeing.
Embrace a touch of colour
With the ability to influence our moods, colour is a crucial detail to embrace in interior design. Of course, there are universal associations to every available shade – for example, blue usually denotes peace and comfort – but it's important to understand that colour can be very personal and hold individual significance.
By evaluating your own interpretations and emotional needs, you can use colour to bring an instant and enduring effect on your wellbeing in subtle ways. Does green make you feel creative and motivated? Take a look at this sleek and stylish design for inspiration.
Focus on sustainability
Using organic and reclaimed materials is a great way to boost wellbeing, whilst taking a conscious approach to improving the welfare of our environment. An eco-friendly interior can make your home warmer, drier, and more comfortable – as well as conserving resources, reducing waste, and safeguarding human health.
That's not to say sustainability should be a trend, however – nurturing our moral senses through considered interior design should be common practice throughout 2022 and beyond. We've recently explored some of the simplest ways to create a more sustainable space at home – check out part one and two of our series.
Pay attention to lighting
Though not often recognised, light has a detrimental impact on our wellbeing. Leveraging natural light resources – or making your own glow with savvy lighting and soothing fires – can counter the risk of Seasonal Affective Disorder.
It's also important to remember, however, not to overindulge by making natural light too much of a focus. If window coverings are too sheer in summer months, when hours of daylight are at their peak, you risk fatigue due to lack of sleep. So, balance is key!
Integrate your living spaces
Another major wellbeing-focused home trend is integrated living – embracing large, open spaces, and seamlessly connecting one room to the next.
While creating an obvious space enhancement and increasing the availability of light in the home – in turn, boosting energy levels and heightening feelings of happiness – this burgeoning trend also works to create an element of serenity by guiding people through the home. What's more, open-plan living better facilitates socialising and quality time – allowing anyone who is cooking to easily converse with those relaxing in the living room, rather than secluding them.
We hope we've provided some useful insight on how to leverage the subtleties of interior styling to boost wellbeing at home. For more expert property advice – from preparing for viewings, to making the most out of countryside living – take a look around our journal page.
Have suggestions of your own that you want to share? The more the merrier! Get in touch on Facebook, Twitter, or Instagram.