As if landing five nominations at The Negotiator Awards wasn't testament enough to our business success, Applegate Properties is delighted to have secured four of these coveted accolades across the board at the event.
Laying claim to the Gold title for Small Estate Agency of the Year, as well as Bronze for Yorkshire and The Humber Agency of the Year, and Highly Commended for Small Lettings Agency of the Year, this year's result is our best yet. With an independent panel of judges acknowledging the commitment and expertise of our Holmfirth-based team, it's a monumental moment in the continued success of our business.
Speaking on the Gold achievement, the judging panel commented: "It's a story of vision, determination, flair, and a fabulous communications. We're impressed that Applegate has been able to increase its market share, despite all their competitors charging lower fees. They just do everything right – hence their 0% withdrawal rate! An intelligent, joined-up estate agency, as it should be."
Grant Leonard, director of The Negotiator Awards, said: "Applegate Properties is the stand-out success of this year's Negotiator Awards. The organisers and judges are delighted, particularly, to be able to recognise, highlight and celebrate the achievement of women in our industry, and this is some achievement. Amy and the team (including Paul!) and this year's Rising Star Bronze winner, Grace Noke, are setting the standards for the whole of estate agency. Congratulations!"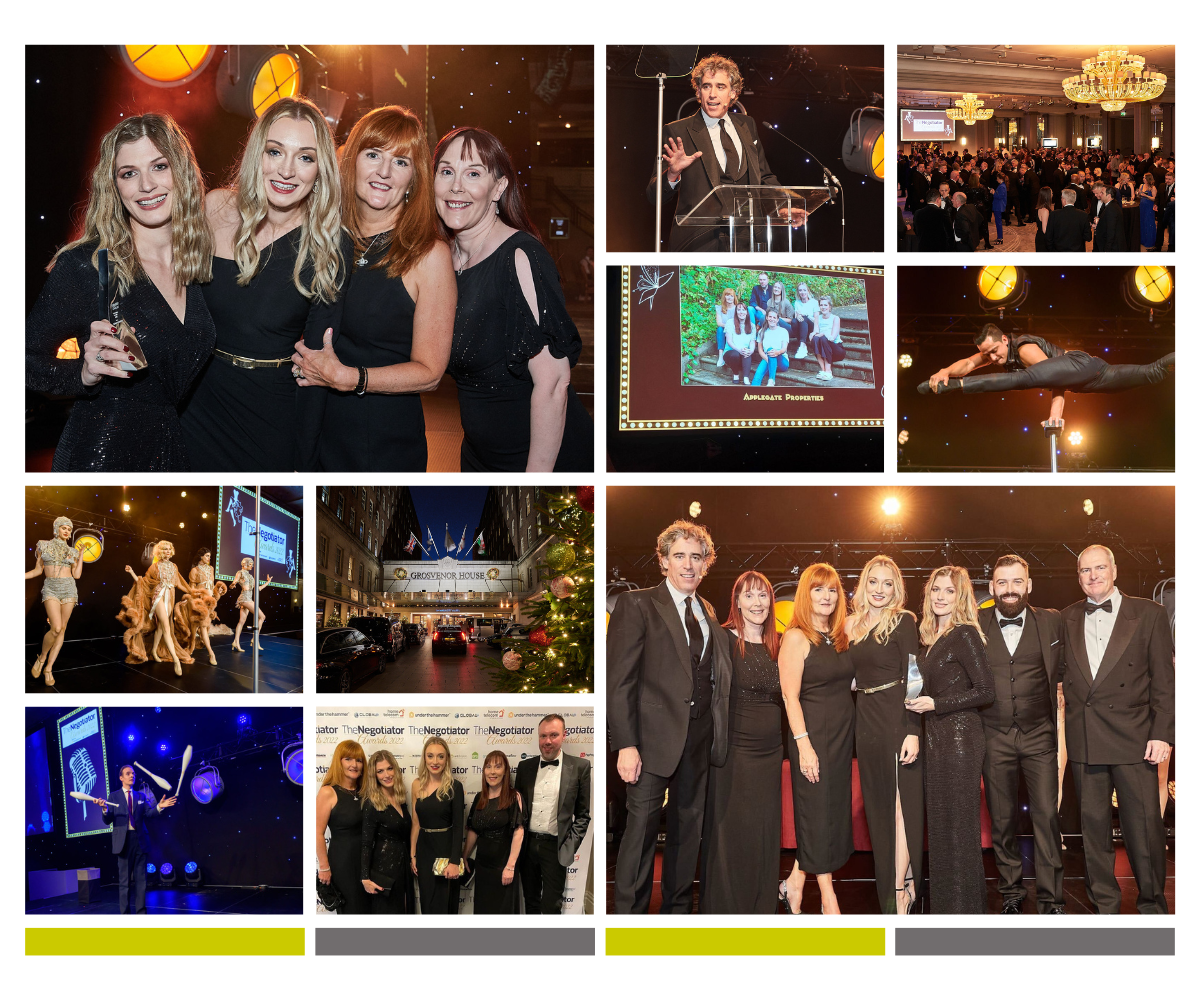 It wasn't just the success of the wider collective that warranted either, as Applegate Properties' company manager, Grace Noke, also scooped a trophy of her own. Named Bronze in the Rising Star of the Year category, we're proud to see her ambition, resilience, and property prowess receive the recognition it deserved too.
The 2022 black tie ceremony – hosted at Park Lane's prestigious Grosvenor House –welcomed over 1000 industry professionals last month. Now in its 14th year, it is viewed as the highlight of the residential property market calendar – with its ever-growing list of entrants reflecting its stature and importance.
In attendance to collect the awards, was founder and managing director, Amy Wray, company manager, Grace Noke, head of residential appraisals, Paul Turner, account manager, Gwen Kaye, and property maintenance manager, Kerry Russell.
Speaking on her pride over the company's achievements, Amy commented: "We've landed five victories over the years at The Negotiator Awards, so to have been shortlisted for this number in one ceremony alone was a whole new level of triumph for the team. To have then been successful in four of these categories on the night was nothing short of a privilege."
Mirroring the same sentiment, Grace added: "Of course, I'm incredibly humbled to see my name on the Rising Star of the Year list – but I want to thank the whole team for supporting me in living and breathing the company's core values. I'm so proud of both our lettings and sales departments for their determination and dedication."